click to enlarge…
Grade & Length: II, WI4+, 25m
Approach: Park at Galetea Creek pullout (signed) as for Kidd Falls & A Bridge Too Far, 20 minutes along Highway 40 from the Trans-Canada.
click to enlarge…
Overview of ice climbs on South West side of Mt. Kidd.
Follow the hiking trail down and over a bridge crossing the Kananaskis River. Continue a minute further to the 1st bridge over the much smaller Galatea Creek. After crossing the bridge take the left turn following Galatea Creek (trail signs). Follow the well used trail for about an hour (more if breaking trail), well past A Bridge Too Far, until the climbs are easily visible in a small canyon below the trail. Walk steeply down to the creek and the climbs. You will be in avalanche terrain during the approach.
Route Description: Tasting Fear is the nice steep section of pillars just left of the waterfall. Take your choice of lines, ranging from WI4 to WI5. There are good anchors to be had on the trees above. Another 20m flow of WI2-3 forms about 50m to the left, and also ends at trees.
If the large pool below Tasting Fear isn't frozen enough to walk on, it is possible to lower off the trees above the climbs and top-rope that way. Because of avalanche hazard, this area isn't recommended as a top-roping venue for beginners.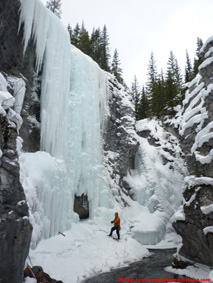 click to enlarge…
Tasting Fear
Descent: Rappel off the trees, or easily walk off to the left.
Gear: Screws, long slings for trees.
Objective Hazards: Avalanche terrain.