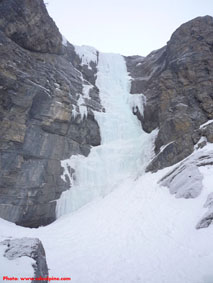 click to enlarge…
The crux upper half of Bourgeau Left. The climbing is usually easiest on the right side.
Grade & Length: IV, WI5, 150m
Approach: A few minutes West of Banff, turn off the Transcanada Highway onto the Sunshine Village ski hill road. Drive to the large parking lot at the end of the road and park as far back as possible. From the back of the parking lot, hike a short ways up the valley and locate a trail leading up and right, to the right of the large avalanche path below the climb. Once you are near the climb, either scramble up to the base from the right, or climb the gully directly. 45 minutes to an hour.
Route Description: The first 70 meters is good but often thin WI4 climbing and can be done in two pitches, or one long pitch with 70m ropes. There is a bolted station on the left at the top. Continue up a little snow bowl to the upper ice. Climb a short easier pitch to a bolted belay in a cave on the right, then launch up the steep finishing pitch (crux) to the top and another bolted anchor on the right.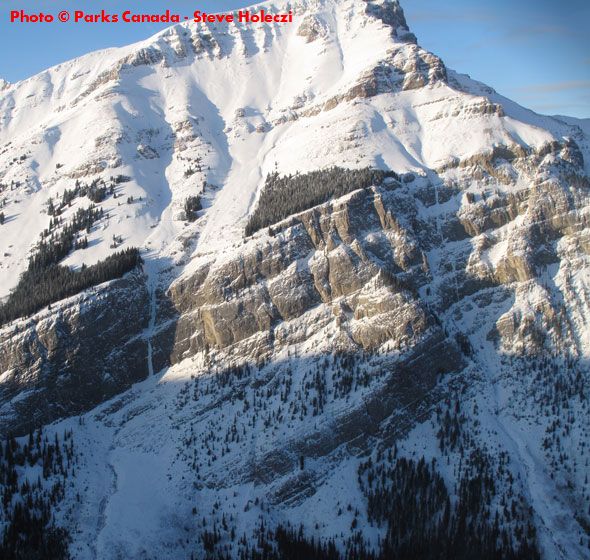 click to enlarge…
Bourgeau Left & Right from the air – Photo courtesy of Parks Canada & Steve Holeczi.
Descent: 3 or 4 rappels depending upon the length of your ropes.
Gear: Screws.
Objective Hazards: Big time avalanche hazard at all points on the route, the slopes above are massive. Parks Canada does NOT do avalanche control above this climb, but may close this area while doing control on nearby slide paths.