click to enlarge…
Kitty Hawk from near the highway.
Grade & Length: IV, WI5, 200m
Approach: Drive down Highway 11 for about 25 minutes from the Icefields Parkway, or 30 minutes from Nordegg, until below Mt. Elliot (see photo). Just North/East of the small dirt road that is the parking spot for Elliot's Left Hand (Range Rd 18-0A), park at a pullout on the West side of the road below a large bank. Hike steeply up the bank above the parking spot and follow a small trail to the route. If you lose the trail just aim for the route which will be periodically visible through the trees. Just over an hour total.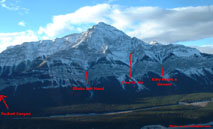 click to enlarge…
Overview of routes on Mt. Elliot, including Kitty Hawk.
Route Description: One of the best routes in the Rockies, Kitty Hawk is well worth a visit.
Climb a couple low angle steps (often covered in debris later in the year) to reach a small ice cave on the right at the start of the main pitches. From the cave, 65 meters of WI4 leads to the base of the steep stuff. Be sure to belay as high as possible, usually on the left, in order to put the belayer in a safe spot. The next pitch is the crux and is usually hard for the grade but always has excellent & steep climbing. It is about 45 meters long and leads to a large ledge. From the ledge, either rappel or climb another shorter pitch of WI2/3 to the top.
Descent: Rappel the route. If you go to the very top, start with a short rappel to the top of the crux pitch or risk getting your ropes stuck. There are some old bolted stations but they are in horrible shape. Sometimes there isn't enough ice to rap the bottom easy steps and they have to be downclimbed.
Gear: Screws, including a few shorties.
Objective Hazards: Numerous large avalanche slopes above the route, although there is often less snow in this area than other parts of the Rockies. In both the winter's of 2009 & 2010, the entire climb fell down mid-winter, scary! This had likely never happened before.