Super Bock from just below the start of the climb.
Grade: III, WI5
Route Length: 180m
Approach: The route is located on Mt. Stephen, the large peak above the highway east of Field. Either park at a pullout along the highway across from the route and cross the river (not recommended unless it's very well frozen!), then the railway tracks and hike up to the route. Or, make the long walk along the tracks from Field, parking at a lot on the east side of town beside the railway tracks. Using the tracks is trespassing on CPR property, so keep a low profile and do so at your own risk!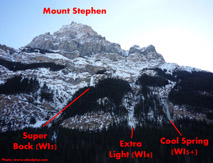 click to enlarge…
Some of the routes on Mt. Stephen as viewed from the highway.
Route Description: A super fun route which includes a couple of shorter pitches (one of which goes through a rock tunnel!) with some snow slopes, and two harder pitches at the end. The crux is usually right near the top.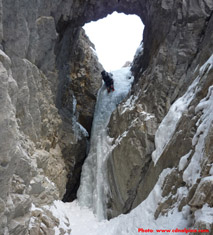 click to enlarge…
Climbing through the hole on the first pitch of Super Bock.
click to enlarge…
The upper crux pitches on Super Bock.
Descent: Rappel the route, there are some fixed stations on the rock if you can find them.
Gear: Screws.
Objective Hazards: Avalanche hazard at all points on the route. There are big slopes way above.