click to enlarge…
Bow Falls & Gorby Falls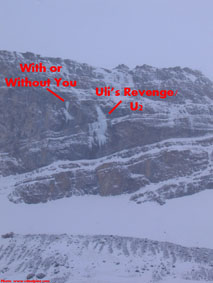 click to enlarge…
The unformed Uli's Revenge
Grade: Various, see below
Route Length: 30-80m
Approach: Park at the road leading into NumTiJa Lodge, about 30 minutes north of Lake Louise on the Icefields Parkway (Hwy 93N).
Walk or ski across or around the lake depending upon the season, then continue up the valley to the routes. About 1 hour.
Route Description: See the pictures to figure out which route is which.
Jaws (III, W4+, 70m) – rarely forms. Skinny pillar on the wall quite a ways left of Bow Falls.
Bow Falls (III, W3, 80m) – the most popular of the bunch by far. Scenic but not very good climbing.
Gorby Falls (III, W3, 30m)
Uli's Revenge (III, W5, 65m) – rarely forms
U2 (III M7+, W5+R, 60m) – the unformed version of Uli's Revenge. Bolted.
With or Without You (III, M6+, W4+, 65m) – the ice to the left of Uli's. Not really formed in the picture above. Bolted.
Descent: Rappel.
Gear: Screws.
Objective Hazards: Avalanche hazard on some of the routes.