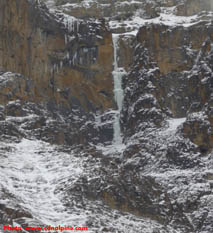 click to enlarge…
Facile Monster, the first pitch is hidden from view.
Grade: IV, WI5, M5
Route Length: 420m (220m of ice)
Approach: Park a short ways south of the Saskatchewan Crossing warden station where the old highway meets the new. Bushwack around Murchison and eventually drop into the drainage leading up between Mt. Murchison and Triangle Peak. This drainage flows into the North Saskatchewan along the David Thompson Highway. Continue up the valley until the route is in sight on Triangle Peak. About 4 hours of hard going from the car.
The top of the route can actually be seen from the David Thompson Highway if you watch very closely.
Route Description: A good route in a remote setting with rad alpine walls all around. The first ascent was made in November 2009 by Steve Holeczi, J. Mills & Eamonn Walsh. They camped near the base the night before, but it could be done in a long day from the car.
Scramble to the start on slopes to the right of the drainage. The first pitch traverses in on rock from the right (M5), then gains thin ice to the top. Scramble up the gully for a couple hundred meters with some short tricky steps. Next, climb 3 pitches of good WI3 to a final WI5 pillar.
click to enlarge…
Climbing one of the WI3 pitches.
Descent: Rappel.
Gear: Screws, a few pitons, and some small cams.
Objective Hazards: Lots of big avalanche terrain but rarely enough snow to be a problem.