click to enlarge…
Amadeus in good mixed conditions.
Grade: III, WI4, M5
Route Length: 55m
Approach: Park as for Barrier Bluffs rock climbing area along Highway 40. Hike up the drainage to the route. Make sure you take a look from the road first.
Route Description: Mixed climb up an obvious groove on the right (gear required) then scratch your way onto the slab leading back left to the ice. If there is ice on the slab it isn't too tough, but if not then it is scary & sketchy with minimal gear. The upper ice is pleasant grade 4, be prepared to build an ice anchor in thin ice if you can't find the bolted belay on the left at the top. Occasionally the whole route forms as ice. Most years the climb melts away by mid-season.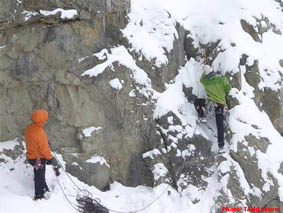 click to enlarge…
Starting up the rock
Descent: Rappel. There is a bolted station on top but it is often buried under snow or ice.
Gear: Screws, including some stubbies, and a full rock rack, pitons may be usefull.
Objective Hazards: In times of heavy snowfall there may be some avalanche hazard.