click to enlarge…
The Drip climbs the long strip of ice up the sunlit face of Mt. Birdwood in the back
Grade: VI, W5+
Route Length: 600m
Approach: Park at Burstall Pass and follow the main trail until below the route then head up big snow slopes to the base. Skis are often required. You can get a good look at the route from just past the Burstall Pass parking lot. 1.5 to 3 hours total.
Route Description: An amazing ice climb on Mt. Birdwood near Burstall Pass. Although it is sometimes climbed to the summit, most people go to the top of the ice and retreat due to scary snow conditions in the upper gully or darkness. It doesn't form every season, but when it does it is one of the best routes in the range.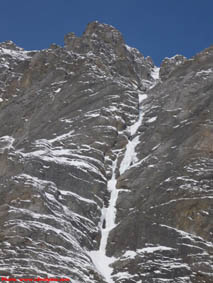 click to enlarge…
Closeup of Drip at the Center of the Universe.
Descent: Rappel the route.
Gear: Screws. Some rock gear may be useful for continuing to the summit or in thin conditions.
Objective Hazards: Big alpine terrain with avalanche hazard, rock fall, ice fall, etc.