click to enlarge…
Whiteman Falls & Redman Soars in good conditions.
Grade & Length: Whitemans (IV, WI6, 90m); Redmans (IV, WI5, M5, 60m)
Approach: Follow the Kananaskis Highway (#40) for about 35 minutes until reaching the winter closure gate. If it is before Dec 1st you can drive past this point but the routes may not be formed yet. From the gate, ski or walk along the road for about 1 hour until the road splits. Take the left hand fork heading uphill. Within a couple minutes you will reach a drainage (Opal Creek) which is where you park if the road is still open. Hike up the drainage for 20 minutes to some short steps and finally the climbs.
Route Description: Whiteman Falls is 2 pitches of awesome ice climbing and usually has lots of mushrooms to wrestle with! There are a couple of sheltered belays to choose from, take your pick depending upon conditions & such.

click to enlarge…
Whiteman Falls from below.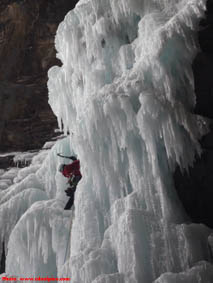 click to enlarge…
Climbing mushrooms on the 1st pitch of Whiteman Falls.
Redman Soars starts in a slot to the right of Whitemans and is one of the most enjoyable mixed routes in the Rockies. Either climb thin ice out of the slot, or cracks further left, until tricky drytooling leads over a small overhang to the ice and an optional belay in a small cave. Continue upwards on mixed terrain to the top.
Descent: Rappel.
Gear: Screws. Full rock rack & short screws for Redman Soars.