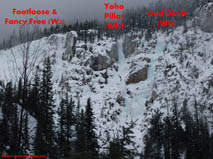 click to enlarge…
Overview of climbs at Footloose & Fancy Free area.
Grade:II, WI2 to WI3
Route Length: 30m to 60m
Approach: Park in the lot at the start of the Yoho Valley Road (Takkakaw Falls road) just east of Field. The road is closed in the winter. Hike, ski, or snowshoe up the road past a number of other routes. A short ways after Iron Curtain, the road starts to switchback up the hillside. Leave the road and follow the river for a few hundred meters until the routes are visible. A little over an hour from the parking lot.
Route Description: A good collection of easy routes which can be combined for a good day of grade 3 ice climbing. See the photo for route identification & grades.
Descent: Rappel the routes.
Gear: Screws. Some webbing may be useful for rappeling or belaying off the trees on top.
Objective Hazards: Some avoidable avalanche hazard on the approach.